New Zealand Workplace Health & Safety Awards
The annual New Zealand Workplace Health & Safety Awards have been run since 2005. They are organised by Safeguard with the support of WorkSafe New Zealand and ACC.
The 2021 Awards were announced at a gala dinner in June. Photos from the evening can be viewed here.
The call for entries into 2022 Awards are now open and entries close on 1 April 2022.
Download the entry pack and entry forms from the How to Enter page 
Who won and what did they do? See the 2021 Award winners here
Lifetime Achievement award recipients can be viewed in the Hall of Fame.
QUESTIONS?
For any awards enquiries please email safeguardawards@thomsonreuters.com
Entry Kit & Entry Forms
WHAT IS THE PURPOSE OF THE AWARDS?
To celebrate the best health and safety initiatives and the dedicated people working to improve health and safety outcomes in New Zealand.
WHO JUDGES THE AWARDS?
The awards are judged by a panel appointed each year. The panel includes representatives from Safeguard, WorkSafe New Zealand, ACC, a union, an experienced health and safety practitioner, and a recent recipient of the Lifetime Achievement Award.
HOW MANY CATEGORIES ARE THERE?
There are 9 categories for organisations and 5 categories for individuals. Details of each category can be found in the entry pack which can be downloaded here.
WHO CAN ENTER?
Any organisation which operates in New Zealand.
Any person who works in New Zealand.
An organisation can submit multiple entries, so long as each entry describes a substantially different health and safety initiative.
KEY DATES
Entries are now OPEN
Entries close 1 April 2022
Finalists notified: 10 May 2022
Gala dinner: 21 June 2022
What is the entry process?
Download the entry kit for all the information you need to know including:
Award categories.
How to write an entry for an organisational category or individual category.
How long an entry should be.
How to submit your entry and entry form.
Judging process.
Download the entry form for Cat 1 - 9 (organisational)
Download the entry form for Cat 10-14 (individual)
Lifetime Achievement Award Recipients
2021 Winners
Safety - Road Science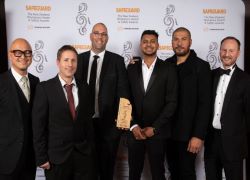 Technical staff work in the road corridor surveying and measuring road surface condition and load deflection.
The deaths of four road workers in NZ in 2019 helped prompt investment in high-tech mobile mapping, surveying and deflection technology and software.
Exposure to the risk of being struck by passing vehicles or the team's own vehicles has been reduced by at least 90%.
Mobile mapping sensor technology has reduced the time spent by staff in the road corridor by 90%, while use of digital laser measurement technology and a falling weight deflectometer has eliminated road corridor exposure altogether for those tasks. Productivity has also hugely increased.
Health - NZESAG (NZ Engineered Stone Advisory Group)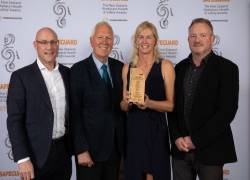 Established by distributors of engineered stone benchtops to meet the risk of accelerated silicosis among engineered stone workers.
Set up a Respirable Crystalline Silica Accreditation Programme to help engineered stone fabricators to address the issue.
Developed a good practice guide and a site accreditation audit to go with it, and training tools for engineered stone workers.
It is estimated between 100 and 150 engineered stone workers are likely to be diagnosed with accelerated silicosis, based on the experience in Queensland where the seriousness of the issue was first revealed. The accreditation programme has raised awareness in the engineered stone sector of the life-threatening exposure risks facing workers unless significant process changes are implemented.
​
Wellbeing - Kāinga Ora - Homes and Communities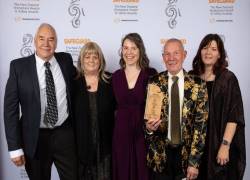 More than 600 staff in customer facing roles deal with people in difficult situations and with complex needs. EAP was available but more was needed.
Professional supervision was introduced for this group, allowing for group sessions plus monthly one-on-one conversations with each person's choice of external supervisor.
Staff have responded positively, including those who initially resisted the move or who couldn't see how it might help them.
The Wā Manaaki programme enables staff in challenging roles to have regular opportunities to connect with a qualified external person of their choice to reflect on their work and how it affects them, and to develop themselves personally and professionally. The programme assists wellbeing in the broadest sense.
Engagement - Observer Services, Fisheries New Zealand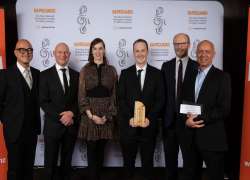 Fisheries observers were suffering increasing injuries but reporting fewer incidents, taken to be a sign of disengagement in health & safety.
A pre-placement assessment was introduced where the observer and a colleague visit a vessel three weeks before deployment to understand the risks and work with the skipper to address them.
A post-trip debriefing and safety evaluation feeds into the next trip. Incident and near miss reporting is much increased.
The previous employment relationship – whereby observers were engaged for a fixed term per trip – led to observers failing to fully engage with health & safety because they feared reporting all their concerns could lead to their vessel's trip being cancelled. Implementing a collective agreement for observers cemented an ongoing work relationship and has removed the structural disincentive to report.
Innovation - ElectroNet Group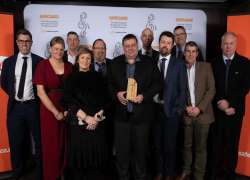 In 2020 a motorist saw a 'rope' on a West Coast road and moved it aside. It was a live 11kV conductor which had fallen and remained energised. A fatality was avoided by luck.
The installation of a low voltage management system on the network enabled the development of software to automatically detect such breaches and turn off the power.
Trials detected 100% of broken conductor events and were 95% successful in differentiating open circuit faults from conductor down situations.
The development of new software to detect conductor-down situations and automatically trip the power until a crew arrives is a first for New Zealand and is being rolled out across the Westpower network. It applies an effective control to a previously uncontrolled fatal risk to the public.
Small business - Rabo Construct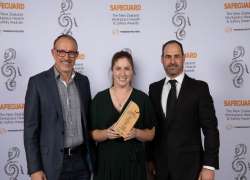 The safety implications of client design requirements, such as roof pitch and stairwell layout, had not been appreciated early enough, sometimes leading to build delays.
Developed a risk checklist to use at the 60% design stage to help anticipate design-driven H&S requirements during the build.
Delays have been reduced and so have unexpected costs.
The company used WorkSafe's H&S In Design guide to refine its risk matrix to include lifetime maintenance of the building and has put its design team through H&S training. Designers are now pointing out potential H&S implications to the H&S manager.
Collaboration - C3 Limited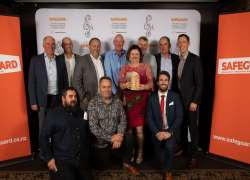 A vessel loaded with logs damaged its rudder while leaving Port of Tauranga. For repairs to begin, all 40,000 tonnes of logs had to be removed and transferred into another vessel.
As a non-routine operation, multiple stakeholder PCBUs were consulted to jointly develop a substantial JSA for the task.
The operation was completed with no incidents and no injuries and both vessels left port.
New Zealand does not import logs, so this may have been the first full log discharge and there was little existing experience to draw on. Wharf strengthening was required, the logs had been fumigated so the hold atmosphere had to be ventilated and constantly tested, and all under Covid protocols. The operation was so successful the company is looking at trialling other methods of handling logs.
Governance - Government Health & Safety Lead (joint winner)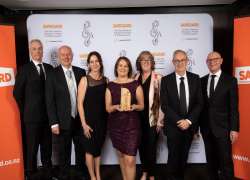 The 38 public sector entities encompassed in the GHSL programme have significantly improved how they do health & safety, but it was felt that at H&S governance level there was a lack of unifying alignment.
GHSL collaborated with the IoD to develop an Officer Development Programme which recognised the unique nature of governance in a public sector setting.
The first cohort of deputy chief executives completed the course early in 2021 and gave feedback for it to be amended ready for the next courses now under way.
The judges appreciated its recognition that public sector entities do not have boards in the private sector sense, so due diligence under the HSW Act is shared among senior operational executives, requiring a different approach. The focus at the in-person sessions is on peer discussion and the feedback to date has been excellent.
Governance - Manawatū District Council (joint winner)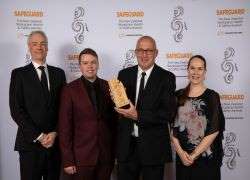 In December 2019 a new health & safety strategy identified the executive leadership team and all elected council members to be officers with due diligence duties.
A simple Due Diligence Plan was created, requiring a quarterly deep dive into one aspect of the council's activities, a site visit a week before, and presentations from HSRs, staff and managers.
One elected member is appointed the health & safety champion and serves as the HSR for the elected members, with training at the Institute of Directors.
The judges appreciated the clarity of the Due Diligence Plan and acknowledge that this approach could usefully be adopted by other territorial authorities. They also liked the close involvement of HSRs in providing the executive team and elected councillors with a close-up view of work-as-done.
Leadership - Government Health & Safety Lead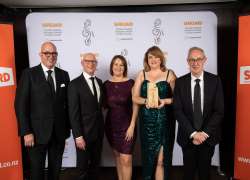 Recognised there were difficulties attracting recent graduates into health & safety roles in the public sector.

A summer internship programme was trialled in 2017/18 to attract recent graduates and those nearing graduation into gaining work experience exposure to health & safety.

In succeeding years the intern programme has been refined to better address a wider shortage of health & safety capacity.

The GHSL's ramping up of its intern programme acknowledges HASANZ's prediction of a significant shortage of generalist health & safety practitioners in the next ten years. The judges appreciate the way the programme introduces young people to health & safety who may otherwise never have considered it as a career. Of the 59 interns to date, 44% are now working in health & safety roles.
Practitioner - Duayne Cloake (Waka Kotahi NZTA)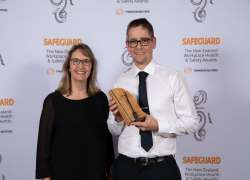 Duayne established a team of regional HSW advisers to work with supply and construction partners to challenge the status quo and develop more robust controls.
He initiated a monthly open forum with the health & safety reps from major contractors, opening up strong lines of communication on what is working and what isn't.
He led the trial of new leading indicators and KPIs to help embed identification and management of critical risks across the life cycle of projects, including post-build maintenance.
As evidence of his ability to work at both local and system level, Duayne is leading significant changes to the way temporary traffic management is carried out across the country, which will see a move to a risk-based approach and fundamental changes to how this essential work is planned, procured and deployed.
Emerging practitioner - Shivashni Singh (Ventia)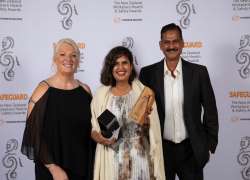 The focus of Shivashni's work is her engagement in the field with people working in telecoms and broadband infrastructure.
She set up an incident review committee and created a visual incident tracker tool to help operations managers learn from incidents and the corrective actions taken.
She worked with operations to create a working at height self-assessment tool, which has seen incidents fall, awareness of safe practice increase, and no breaches of protocol.
Inspired to get into health & safety after working as a student with the Pike River Royal Commission, Shivashni continues her relationship with AUT's Centre for OHS Research. She champions wide consultation so safe systems of work are created from the ground up, ensuring systems work with people and not against them.
Health & safety representative - Uli Thie (Massey University)
Uli is a technical demonstrator in the 3D design workshop where he helps train hundreds of students each year on the use of more than 60 machines.
He successfully lobbied to create a new role of graduate technical demonstrator to give a student perspective, resulting in visual design changes to accommodate neurodiverse students.
During lockdown students were forced to complete projects at home, so he learned how to make safety videos and how to disseminate them via social media.
Uli inspires and influences at all levels of the university, including on the national H&S steering group. The H&S team value his perspective so highly they ask him to help interview candidates for H&S roles. In a trial to improve the HSR experience he has pushed to increase their autonomy and to shift their focus onto improving work.
Leader - Kate Coley (Waikato District Health Board)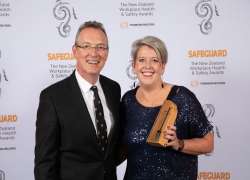 At Hawke's Bay DHB, Kate originated the 'Making Health Safer' project, leading to a standard playbook for DHBs to meet their overlapping PCBU duties.
At Waikato, she led a project to benchmark H&S maturity and used the results to develop a strategic blueprint for improvement.
She has chaired the 20 DHB General Manager Human Resources group, advocating for the need to engage with, understand and improve H&S.
Kate's influence is being felt through all 20 DHBs, as an enabler, a connector, and as a leader. She is executive lead of the 20DHB H&S Safety Managers Group and helped to form its work streams. She also leads the 20 DHB health & safety maturity benchmarking project, from which comes a collaborative agenda to align the sector's approach.
Special commendation - Vibration Action/Jason Johnstone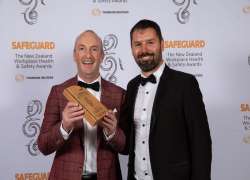 For the invention of a practical device worn on the wrist to measure the vibration being endured by a worker using a powered hand tool, to help organisations discover how their people are being exposed to unhealthy levels of vibration. Jason was diagnosed with Hand Arm Vibration Syndrome (HAVS) in 2014, ending his career. He designed a prototype which sends vibration data to the cloud for real-time display. It has been trialled by a lines company, which has helped it pinpoint vibration sources and has led it to redesign workflows and invest in new equipment. Jason has also worked with an occupational physician to ensure the device meets ISO standard 8041. He is now trialling a glove device to measure vibration even more accurately.
Special commendation - Forest Industry Safety Council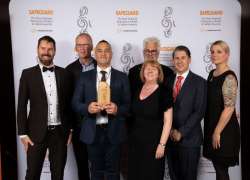 For its innovative Toroawhi pilot project, in which two experienced forestry people are employed as Toroawhi – champions of worker engagement in health & safety – in two forestry regions. FISC recognised that taking a traditional approach would be unlikely to succeed in an industry which is fragmented, under pressure, and where the prevailing culture is 'command and control'. The two Toroawhi advocate for worker engagement and culture change, build worker capability, and provide coaching and mentoring. Results so far are promising: the Toroawhi are valued by all stakeholders, with other forestry regions wanting their own. This model could also be introduced to other high-risk but fragmented sectors such as agriculture, fishing and construction.
Overall winner (selected from winners of the Organisational categories) - Observer Services, Fisheries New Zealand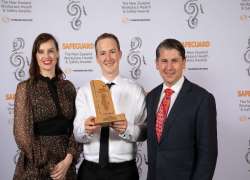 In making this award the judges look for initiatives with the potential to transform health & safety performance beyond the needs of a single organisation.
Fisheries observers spend up to three months at sea per deployment, working in a complex, high risk environment. Changing the employment relationship enabled observers to fully participate in helping to assess risks and feed back their concerns, demonstrating how structural employment issues can inadvertently undermine health & safety. Staff turnover was 30% per year in 2018 but by early 2021 had dropped to less than ten percent.