Safeguard issue 194
July/August 2022 edition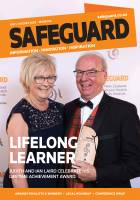 As well as the stories below, this edition also features items on:
The 2022 Awards: details of all finalists and winners.
Digital innovation: profiling the overall award winner.
Ian Laird: a profile of the lifetime achievement recipient.
Legal roundup: four stories on legal developments.
The supply chain: what part does it play in H&S outcomes?
Why do we insist on mocking Zero Harm?
Stories from the current issue

Te Awamutu farmer Peter McLaughlin tells Jackie Brown-Haysom of a spur-of-the-moment decision at the end of a busy day that had far-reaching consequences.

Fiona Ewing, recently retired from leading the Forest Industry Safety Council, reflects on the challenges faced in trying to achieve sector change.

Peter Bateman reports some edited highlights from this year's Safeguard National Health & Safety Conference, held in Auckland over 21-22 June.